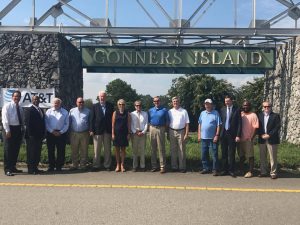 Conners Island Business Park Certified AT&T Fiber Ready 
Certification Reflects Presence of Fiber-Based, High-Speed Internet  
Guntersville, Ala., August 3, 2017 – As part of AT&T's continuing efforts to drive economic development and investment in Alabama, AT&T and the City of Guntersville today announced Conners Island Business Park has been certified AT&T Fiber Ready.
"AT&T continues to invest in high-speed internet in urban and rural areas all across Alabama using the latest wired and wireless technologies, and, today, we are proud to highlight Conners Island Business Park among the numerous places in Alabama where AT&T's fiber infrastructure is in place and ready to help community leaders drive job creation," said Mickey Harbin, AT&T Alabama Assistant Vice President of External and Legislative Affairs. "Each and every day, our more than 5,300 employees are turning AT&T's billions of dollars in financial investment into high-speed internet for consumers and businesses across Alabama."
In today's world, connectivity is important to new employers and businesses of every type. The AT&T Fiber Ready designation helps economic development leaders more effectively position their communities for site selection by emphasizing the availability of high-speed, fiber-based services.
"Our resources in Alabama are extensive, but if potential investors aren't aware of the tech infrastructure in place, then we face the potential of missing opportunities. The AT&T Fiber Ready certification helps us tout the existence of our fiber infrastructure and eliminate those missed opportunities," stated State Senator Clay Scofield. "The AT&T Fiber Ready designation is a great economic development tool for us to have in Guntersville and across our great state."
"We are excited to collaborate with AT&T in designating the Conners Island Business Park as AT&T Fiber Ready," said Leigh Dollar, Mayor of Guntersville. "The availablilty of fiber-optic facilities with high-speed communications capabilities is one of the checkpoints when a business is considering a site for relocation or expansion. AT&T's Fiber Ready designation is a valuable tool and will help ensure our continued success in bringing more jobs to Guntersville."
"AT&T continues to deploy leading-edge technology," said Dave Hargrove, AT&T Director of External and Legislative Affairs. "Our goal for the AT&T Fiber Ready certification is to help clearly message that Alabama is connected as economic developers and community leaders work to bring new business to our state and drive growth for the ones that already call our communities home."
The AT&T fiber network provides the bandwidth needed to support data intensive services such as video, collaboration, cloud services and more through products such as Ethernet, Virtual Private Networking, Managed Internet Service and AT&T Business Fiber. Customers can complement their high-speed Internet with network security options and online backup to help protect and virtualize their business-critical information. AT&T in Alabama:
AT&T has invested more than $1.1 billion in its wireless and wired networks in Alabama between 2014 through 2016. These investments drive a wide range of upgrades to reliability, coverage, speed and overall performance for residents and businesses. AT&T is proud of our long-standing presence in Guntersville and our state. AT&T has been deploying fiber in Alabama since the mid-1980s and investing in our Alabama communications networks and our local Alabama communities for 138 years. 
About AT&T
AT&T Inc. (NYSE:T) helps millions around the globe connect with leading entertainment, business, mobile and high speed internet services. We offer the nation's best data network* and the best global coverage of any U.S. wireless provider.** We're one of the world's largest providers of pay TV. We have TV customers in the U.S. and 11 Latin American countries. Nearly 3.5 million companies, from small to large businesses around the globe, turn to AT&T for our highly secure smart solutions.
Additional information about AT&T products and services is available at about.att.com. Follow our news on Twitter at @ATT, on Facebook at facebook.com/att and YouTube at youtube.com/att.
© 2017 AT&T Intellectual Property. All rights reserved. AT&T, the Globe logo and other marks are trademarks and service marks of AT&T Intellectual Property and/or AT&T affiliated companies. All other marks contained herein are the property of their respective owners.
*Claim based on the Nielsen Certified Data Network Score. Score includes data reported by wireless consumers in the Nielsen Mobile Insights survey, network measurements from Nielsen Mobile Performance and Nielsen Drive Test Benchmarks for Q3+Q4 2016 across 121 markets.
**Global coverage claim based on offering discounted voice and data roaming; LTE roaming; and voice roaming in more countries than any other U.S. based carrier. International service required. Coverage not available in all areas. Coverage may vary per country and be limited/restricted in some countries.
For more information, contact:
Catherine Stengel
AT&T Corporate Communications
(404) 797-4108