Residential and Commercial Sanitation and Recycling services are setup and billed through the Guntersville Water and Sewer Board. For information about setting-up new service or questions regarding your bill, call the Guntersville Water and Sewer Board (256) 5931.  For pick-up schedules and other questions call (256) 571-7598.
HOUSEHOLD GARBAGE
Trash containers must be out by 5 a.m. on the day of collection.
Trash must be bagged, tied and placed in a trash receptacle with  handles and secured lids.
On collection day make sure that your garbage cans do not block sidewalks, driveways, parked vehicles, utility poles, trees or other objects that would cause obstruction.
Unauthorized debris or loose trash in your cans will not be picked up.
No makeshift receptacles or 55 gallon barrels will accepted or emptied.
Households can have one 96 gallons can or up to three 32 gallon cans.
Trucks will not be able to return for pickups.
Trucks will not return to collect carts that are placed out late, blocked, too close to obstructions, or containing unauthorized debris.
For elderly or disabled exceptions call (256) 571-7598
Holiday Schedules are announced in The Advertiser-Gleam, WGSV Radio 1270 AM and are posted to the both City of Guntersville Recycling & Public Works and City of Guntersville Facebook pages.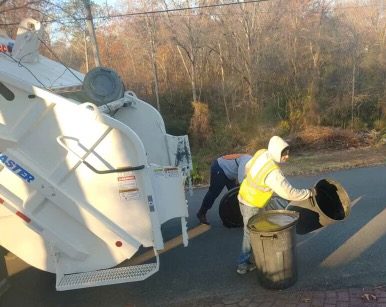 COMMERCIAL WASTE

Commercial waste pickup is coordinated on a case-by-case basis depending on the needs of each individual business. Please contact us at (256) 571-7598 to schedule an appointment with the Sanitation Department.
The City of Guntersville does not have a landfill that is open to the public. Those needing to dispose of items not accepted by the Street Department pick-up should contact the Arab Landfill at (256) 586-2666 or the Albertville Transfer Station (256) 891-2944. For more information about city services, call (256) 571-7598.