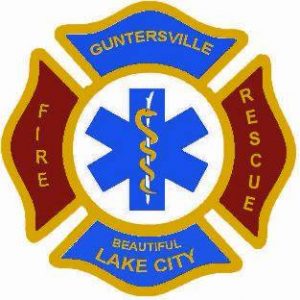 Guntersville Fire & Rescue is a full-service fire, medical and emergency service agency that provides basic and advanced life support, fire prevention, fire suppression, technical rescue, and hazardous material response. In addition, the department conducts arson investigations, building plan reviews, enforces state and local fire and life safety codes, and administers public fire education programs.
Guntersville Fire & Rescue is composed of 36 firefighters with a fleet consisting of 4 Advanced Life Support (ALS) engine companies, 1 ladder company, and 1 heavy rescue unit, 2 marine vessels, 1 wildland brush truck, all strategically located in Guntersville neighborhoods. The Department is equipped to respond to all fire, medical, natural disaster, hazardous materials, water, and terroristic events that occur within Guntersville and its surrounding communities. Each year, Guntersville firefighters and emergency medical technicians faithfully respond to over 2,200 emergency calls for service.
Under the general guidance of Chief Waldrop, the department is managed on a 24/7/365 basis by three Chief Officers. The department serves the community around the clock with operations personnel on duty and at your service every second of every day.
Guntersville Fire & Rescue reminds you in any Emergency remember to dial 911.