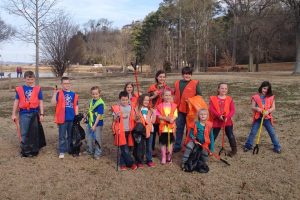 Keep Guntersville Beautiful is still planning to proceed with our Great American Cleanup on Tuesday, April 18 even though scattered shatters are forecast for the late afternoon.
Participants can check in and pick up supplies at the Rotary Cabin from 3 pm to 5 pm.
Residents, business and groups are encouraged to pickup throughout the day as the weather permits. Send us a count of the bags you collect and photos.You are also welcome to pick an alternate time that works better for you anytime this month. Call Nicole at (256) 571-7598 for details.